I was surprised to see a large queue of people out in front of the Swiss Institute, but happy, in a way, to see if the Armory Show VIP card I was holding would get me in before all the rest. I had been told, earlier that day that "it would grant me special powers". A man was holding a clip-board that said "Armory VIP" with an arrow, so it looked promising but, upon reaching the front of the line I was denied entrance like everyone else. Seems the SI was too full, the fair was in danger of being shut down, and I would have to return in an hour.
When I returned the queue was still forming and growing, but this time I was able to slip right in the doors and into a tiny elevator with ten other people. We were let out onto the 3rd floor. It was dark, hot, and of course; crowded.
The 411 on the Dark Fair, is that it is presented by the Milwaukee International, a little art fair in Milwaukee that was written up by Matthew Higgs in Art Forum's "Best of 2006" (From that text:)
[The Milwaukee International was]"Conceived and organized by an informal collective of Milwaukee-based artists and galleries (among them Kiki Anderson of Jody Monroe Gallery; Nicholas Frank of Hermetic Gallery; John Riepenhoff of Green Gallery; and Tyson Reeder, Scott Reeder, and Elysia Borowy-Reeder of the General Store), it opened more modestly than Frieze, in the Polish Falcons Beer Hall in the city's Riverwest neighborhood. The fair temporarily displaced the hall's typical goings-on–cribbage, dart-ball (a game that "combines darts with baseball," according to my local guide), spaghetti dinners–but, even though the space had been tricked out for the weekend to look like a typical art fair, the spirit of these activities remained as a spectral ambience."
The Dark Fair itself was billed (from the SI PR) as a "subversive and experimental miniature art fair [that] will take place without the use of natural or electric light"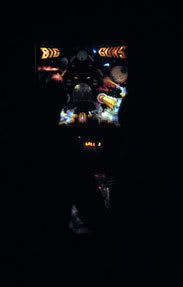 Pin-ball machines (2) made possible by Ara Peterson.
So the Dark Fair=the anti-fair, the opposite of white walls, the opposite of being able to see, instead of being in a crowd of people in a large space struggling to look at art with the lights on, I was fumbling around with a crowd of people in the dark looking for a beer. I really didn't understand anything that was going on, but I was surprised to see that there were some efforts put into making the Dark Fair an actual art fair. There were about 32 galleries/participants set up in little booths, reminiscent of booths in an italian restaurant (I am probably thinking this because of all the candles). Most of the "vendors" looked just as bored as the "vendors" at The Armory.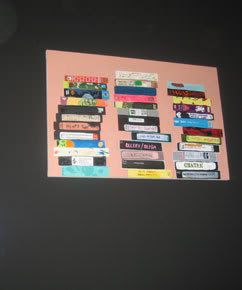 A painting of VHS tapes at a gallery? called B'Ling
All in all a great little idea, this fair, reminds me of all the antics Marchel Duchamp used to get on with (you know, arranging for coal dust to fall on people's heads or making it impossible to see the work because of a maze of string. . .). My only critique is to wonder where the artist is in all of this, because the props go out to the organizers; everyone else is left in the dark.
Still, I wish I would have bought a T-shirt.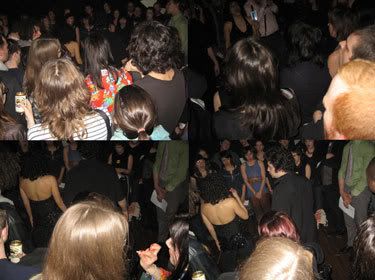 I had no idea why this crowd of people had formed, but I have put together some clues with the help of the internet and now believe this to be a "Wordless Choir" put on by the Grey Ghost Press.
For some flicks with commentary from The Armory visit One Culture and the New Sensibility.